Běháte rádi a často? Máte rádi výzvy a milujete ten pocit, že jste si sáhli až na dno? Pak zkuste změnu a vyměňte delší tratě za kratší, ale opravdu vydatné. Řeč je zde o intervalovém tréninku, který z vašeho běhání udělá naprosté peklo na zemi, ve kterém se však budete cítit skvěle.
Pro koho?
Intervalový trénink je vhodný především pro osoby, které chtějí zapracovat na své fyzičce a chtějí budovat své svalstvo. Vzpomeňme si jen na atlety, kteří běhají stovku či dvoustovku a na dálkaře. Sprinteři mívají často vypracovanou muskulaturu, kdežto dálkaři jsou spíše šlachovití.
Jak to funguje?
A v čem intervalový trénink vlastně spočívá? Je to vcelku jednoduché. Váš běh bude rozdělen na několik fází, které se mezi sebou budou střídat. Tou první je zcela jistě rozehřátí, které by mělo trvat tak pět minut. Po něm následuje první fáze lehkého joggingu a po ní sprint, který běžíte tak na 70-90% svého výkonu. Po tomto sprintu opět část joggingu. Takto pasáže střídáte a na konci si dáte závěrečných pět minut výklusu.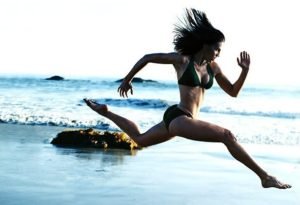 Jak dlouho?
Intervalové běhání je opravdu morbidní a pro začátečníky je vhodné takto běhat maximálně dvacet minut. Sprintovat můžete například půl minuty a odpočívat minutu. S přibývající fyzičkou můžete sprinterské části natahovat na minutu až dvě a joggingové části jim vyrovnávat. Nezapomínejte však na to, že takto běhat můžete maximálně 45 minut. Poté tento trénink již ztrácí smysl a hlavně je vidět, že do toho opravdu nedáváte vše, pokud můžete i nadále.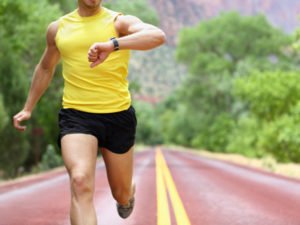 Výhody a nevýhody?
Tento způsob běhu má spíše více výhod než nevýhod. Je ideální pro toho, kdo nemá příliš mnoho času, ale půl hodinky si vždy najde. Navíc díky němu dochází k poměrně značné váhové redukci a to i přes zachování objemu svalstva. Mezi nevýhody patří rozhodně energetická náročnost a tento běh není vhodný pro osoby trpícími bolestmi kloubů.