Paddleboarding je vodní pohybová aktivita, která si nachází stále více příznivců, a to hned z několika důvodů. Postačí vám paddleboard a téměř jakákoli vodní plocha. Můžete si pořídit klasický nebo nafukovací paddleboard.
Záleží jen na tom, kterému dáte přednost. Kromě toho je to aktivita, kterou se může zabývat jakákoli věková skupina, může to tedy být zábava pro celou vaši rodinu. Během jejího provozování získáte neopakovatelné zážitky a celou řadu zdravotních benefitů.
Jaké zdravotní výhody tedy nabízejí paddleboardy?
Vybrali jsme pro vás ty nejčastější a tady jsou.
Zlepšují vaše kardiovaskulární zdraví
Paddleboarding je svojí náročností podobný běhu nebo aerobiku. Posiluje srdce i cévy. Tím eliminuje riziko vzniku infarktu nebo mozkové mrtvice. Během pádlování se zvyšuje srdeční tep. Díky tomu se zlepšuje průtok krve a vzniká menší riziko výskytu srdečních zdravotních obtíží.
Zlepší vaši koordinaci a podpoří rovnováhu
K této pohybové aktivitě je potřeba dokonalá rovnováha a posílení středu těla. Rovnováhu uplatníte na méně stabilním povrchu. Díky tomu se jedná o skvělý způsob zlepšení koordinace i rovnováhy. Pokud budete pravidelně provozovat paddleboarding, posílíte zároveň i svaly nohou, břišní nebo zádové.
Pro paddleboarding musíte využívat celé tělo, všechny svaly. Při udržování rovnováhy se tak všechny svaly těla zapojí.
Díky pádlování, které pro pohyb potřebujete, zapojíte a posílíte všechny svaly. Získáte svalovou hmotu a tím i lepší fyzický vzhled.
Potřebujete-li si odpočinout, pak jsou voda a okolní příroda ideální možností, jak se zrelaxovat a odpočinout si od každodenního shonu a stresu nebo pracovního vytížení. Tím, že se soustřeďujete na pádlování a okolní přírodu, snižujete vypětí těla, zapomínáte na každodenní starosti a můžete tak snížit hladinu stresu, úzkost a depresi.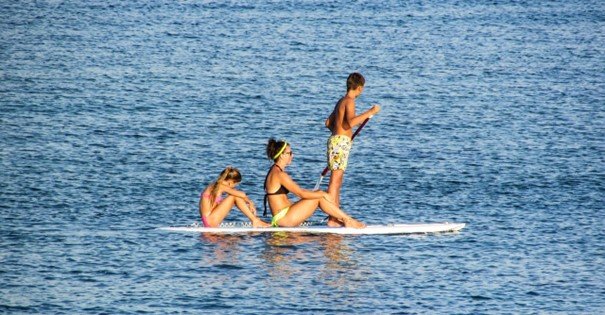 Pro provozování paddleboardingu potřebujete pohyby, které pomáhají zlepšovat flexibilitu těla. Klouby se stávají mobilnější a vy eliminujete riziko jejich poranění.
Během pádlování se zvyšuje průtok kyslíku v plicích. Tím dochází ke zlepšení dýchacích funkcí i zdraví celé dýchací soustavy.
Podporují lepší spalování kalorií
Vzhledem k tomu, že při paddleboardingu vynakládáte fyzickou aktivitu, spalujete více kalorií a můžete podpořit i hubnutí. Pohyb na paddleboardu se může rovnat s jízdou na kole nebo dokonce běhu. Díky tomu, že během tohoto pohybu dochází k zapojení celého těla, spalujete celkem rychle. Tělesný tuk tak začne rychleji mizet.
O snižování stresu již bylo psáno výše. Paddleboarding je skvělý způsob pro aktivní meditaci. Podporuje soustředění, zlepšuje vaše kognitivní funkce a v neposlední řadě zlepšuje náladu.
Vidíte, že výhod, které paddleboarding nabízí, je velké množství. Pokud jste jej ještě nezkoušeli, nenastal právě teď ten správný čas?