Cvičení s vlastní vahou je stále populárnější. A to především proto, že využívání pouze vlastní váhy je pro tělo šetrnější. Aby ale cvičení nebylo nuda, je potřeba jej trochu ozvláštnit. Třeba závěsným posilovacím systémem. Ten lze využít nejenom doma, ale i na cestách.
Posilovací systém lze zavěsit během pár minut třeba mezi futra od dveří
Kvůli cvičení na závěsném posilovacím systému můžete klidně chodit do posilovny. Instalace je ale tak snadná, že je to spíše ztráta času a peněz. Cvičit na závěsném posilovacím systému lze totiž i doma. K uchycení popruhů stačí pouze stabilní opěrné body. Těmi můžou být například futra dveří. Cvičit můžete také venku. A to v případě, že závěsný systém přichytíte na strom.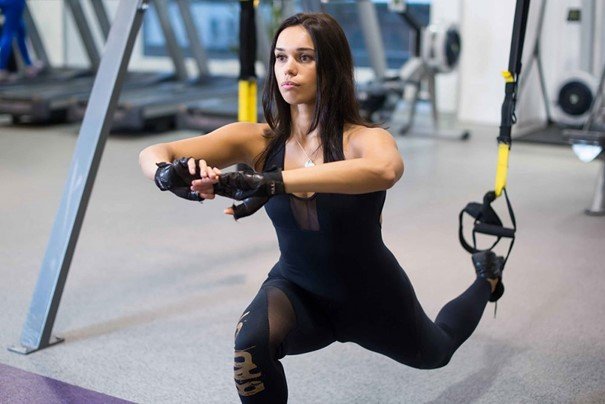 Závěsný posilovací systém si lze, díky skladnosti, vzít také na cesty. Zabalený se vám vejde do jakéhokoliv zavazadla. Vy tak ve svém cvičení nemusíte nikdy přestat. Instalace vám zabere pouze pár minut.
Až čtyři centimetry široké popruhy jsou spolu s protiskluzovými madly velmi příjemné na manipulaci. Závěsné posilovací popruhy dokážou udržet člověka vážícího až 150 kilogramů. Protáhnout si tělo tak může skutečně každý.
Závěsný posilovací systém má mnohá využití
Závěsný systém umožňuje kondiční i posilovací cvičení s vlastní vahou. Ať už se chcete pouze protáhnout, nebo si dát pořádně do těla, posilovací systém vám pomůže zapojit všechny svalové partie. Základním principem je udržení rovnováhy. Při variaci klasických cviků se tělo stává nestabilním.
Aby nedošlo k pádu člověka, je nutné zapojit střed těla. Při všech cvicích je tak posilována nejenom vybraná partie, ale také vnitřní svaly, které pomáhají tělu člověka stát se pevnějším a silnějším.Posílení coru, jak se středu těla také říká, vám pomůže nejenom s bolestmi zad, ale také zlepší vaši flexibilitu, stabilitu i koordinaci. Usnadní vám tak činnosti všedních dnů.
Běžné cviky lze provádět i s posilovacím systémem
Závěsný posilovací systém dostává obyčejné cviky na vyšší level. Cvičit s ním můžete například dřepy, výpady, ale také tahová cvičení či rotační cviky. Ve fantazii se meze nekladou. Spousta obyčejných, ale zato účinných cviků, se dá se závěsným systémem provádět ve vylepšené verzi.
Přítahy jsou základem, který bez posilovacího systému doma neprovedete
Klasickým cvikem, který posílí především střed těla, paže a prsní svaly, jsou přítahy. Přitahování se směrem k posilovacímu systému je opravdu efektivní. Jen si dejte pozor, abyste měli neustále rovná záda a ramena držela od uší.
Díky posilovacímu systému můžete při výpadech zároveň posilovat také ruce. Výpad je vhodné provádět nejdříve na jednu a poté na druhou stranu, můžete ale zvolit i variantu, kdy se nohy vzájemně střídají. Kolenem se dotýkejte země a opět nezapomeňte na rovná záda.
Do systému lze zavěsit nejen ruce, ale také nohy
Existují také cviky, při kterých nejste zavěšeni do posilovacích popruhů rukama, ale nohama. V takovém případě můžete provádět například výpady. Výpady s nohou v závěsu vám pomůžou především se stabilitou. Udržet se se zátěží vlastního těla v závěsném sytému totiž není nic jednoduchého. Při pravidelném cvičení to ale nakonec hravě zvládnete.