Pokud to myslíte se svým tělem a redukcí jeho váhy opravdu vážně, pak asi tušíte, že budete muset makat a to hodně a hlavně pravidelně. Mnoho lidí si myslí, že zajdou párkrát do posilovny a bude hotovo, ovšem takto to opravdu nefunguje a je potřeba pořádně dřít. My se dnes podíváme na Insanity trénink, který se stane peklem i nutností.
Insanity je program redukci váhy, který vás za pomoci videa provede dvěma měsíci plných potu dřiny, ale zaručených výsledků. Program si pouze stačí zakoupit, najít si místo, kde jej budete cvičit (stačit vám bude 8×8 metrů) a něco na čem si program pustíte a pak už se do toho jen pusťte.
Celým programem vás bude provázet energický a tak trochu šílený Shawn T, který z vás vymačká i poslední zbytky sil a bude vás neustále nutit pokračovat dál a dál. V celém programu naleznete první rozehřátí, protažení, samotné cvičení a ukončíte jej konečným protažením. Součástí programu je také několik testů, na kterých si budete mapovat svůj progres. Tréning budete cvičit po dobu dvou měsíců a to každý den v týdnu krom jednoho. První měsíc vám jeden trénink zabere 45 minut. V druhém měsíci se již jeho délka navýší na jednu hodinu, ovšem ne víc. A věřte nám, že i po jedné hodině budete rádi, že už je konec.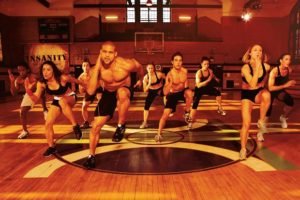 Nicméně trénink je tak energický, že další den budete chtít zas a znova. Nejdůležitější je zde vydržet a přesně dodržovat cvičební plán, který je taktéž součástí programu. Pokud se vám toto povede, zaručujeme vám, že vaše tukové zásoby budou mizet. Stačí jen dodržovat správný jídelníček a hubnutí půjde prostě samo. Bonusem k tomu bude navíc dokonalá fyzička, které se jen tak nezbavíte, a kterou si budete chtít nechat po celý svůj život. Nebojte se toho a vyzkoušejte si také tuto jedinečnou šílenost jménem Insanity.