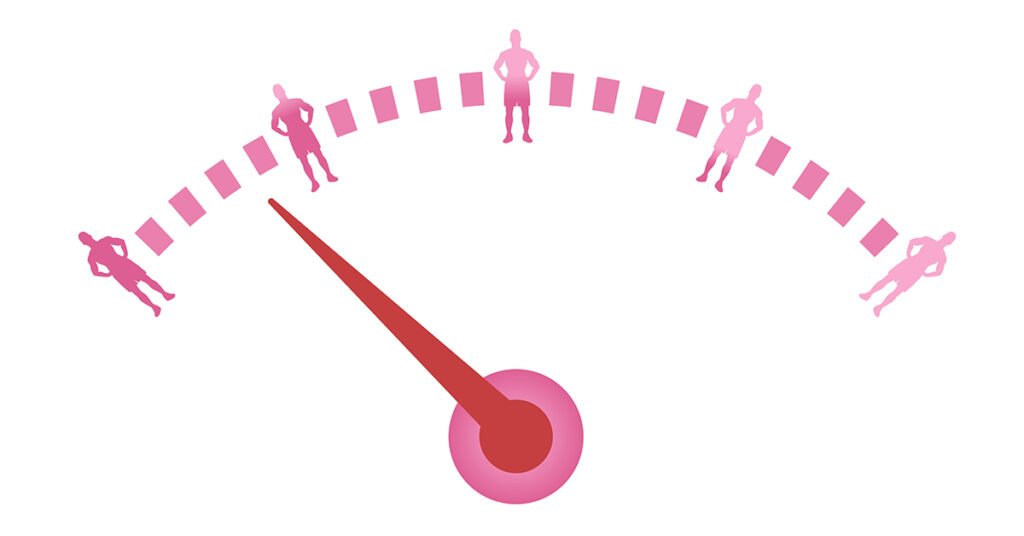 Když se řekne testosteron, na první dobrou se většině lidí vybaví sex, plodnost, a možná kulturistika. To je poměrně zkreslená představa. Pojďme si vysvětlit, na čem se tento hormon podílí, a co skutečně obnáší nedostatek testosteronu.
Dozvíte se:
Co je hormon testosteron a jaké funkce plní
Proč může někoho trápit nedostatek testosteronu a jak se projeví
Zda je možné hladinu testosteronu bezpečně udržovat
Testosteron není jen hormon pro sexuální oblast
Hned na začátku musíme podotknout, že testosteron mají i ženy. Jde o hormon, který se tvoří ve varlatech (u žen ve vaječnících) a u obou pohlaví v nadledvinách. Do jisté míry hraje roli v tom, jak moc je daná osoba dominantní, jaká je její sexualita, nebo třeba bojovnost. Především u mužů ovlivňuje i jejich vzhled, což se nejvíc projevuje v pubertě. Přestaňme ale na testosteron pohlížet jen v tomto kontextu – jde hlavně o hormon, který je pro fungování organismu nezbytný.
Proč muže trápí nedostatek testosteronu?
Často si mylně myslí, že když budou mít víc testosteronu, budou mít větší svaly, lepší výdrž v posteli, nebo budou vypadat mužněji. Pravda je to jen částečně. Upřímně, na výše zmíněné oblasti má vliv mnoho faktorů, a hladina testosteronu je jejich pouhou součástí.
Co dokáže v běžném životě potrápit víc, je únava, kterou nedostatek testosteronu může způsobit. Jde o ztrátu fyzické kondice, náladovost, a menší chuť ,,jít do akce", ať už jde o cokoli.
TIP: AlphaLabs vám přináší testosteronové injekce, které vám vrátí sílu do života
Hladina testosteronu klesá po třicítce
Z hlediska přírodních zákonů je to jasné: v této době by podle evoluce měl mít muž zplozené potomky. Realita moderní doby je sice jiná, ale přírodu neošálíme. Po vyvrcholení plodného věku začne testosteron ubývat, s každým rokem o několik procent. Jako největší projev nedostatku testosteronu muži označují fyzickou i psychickou únavu a vyčerpání. Nároky jsou na ně vysoké, ale tělo by už chtělo více odpočívat.
Právě ve středním věku, kdy potřebujeme zůstat aktivní, je žádoucí nedostatek testosteronu řešit, a jeho hladinu se snažit udržet. Roli hraje několik faktorů:
Špatný spánek snižuje hladinu testosteronu o 15 %. Testosteron se tvoří hlavně během spánku. Pokud trvá méně než 5 h, skutečně se vytvoří zhruba o 15 % testosteronu méně, než kdybychom spali 8h.
Kouření způsobuje neplodnost a nikotin má vliv na hladinu mužských pohlavních hormonů v krvi. Kromě toho snižuje působení vitamínů a dalších živin v těle.
Stres podporuje tvorbu obranného hormonu kortizolu. Ten však potlačuje tvorbu testosteronu, a zejména dlouhodobý stres je pro mužské zdraví nesmírně zatěžující.
V pokročilejším věku pak přichází andropauza, což je ekvivalent menopauzy. Hormonální změny se projeví jak na kondici, tak na zevnějšku.
Pokud se vám podaří se ve výše zmíněných oblastech polepšit, můžete sáhnout po výživových doplňcích, které podporují tvorbu testosteronu, nebo pomáhají udržet jeho hladinu. Z vitamínů a minerálů je pro mužské zdraví zásadní zinek, selen, hořčík, vitamín E a vitamín B12. Velice zajímavé účinky mají ale i rostliny a bylinky. Sílu a energii podporuje ženšen. Spolehnout se můžete také na rozchodnici růžovou, damianu, nebo třeba pískavici řecké seno.